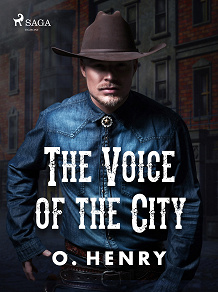 The Voice of the City
Another poignant short story collection from the famed writer, formed as an ode to O. Henry's favourite place, New York City. Seeking to find the genuine voice of this megapolis, O. Henry portrays a variety of characters in their own peculiarity and uniqueness . In the first short of the same name, we are brought to the cacophonous chanting of a New York class room where students eagerly recite their lessons, before we are brought on a sweeping journey throughout the city. We meet policemen, poets and newsboys who each eagerly accounts for the true voice of their famed city. It is an excellent read, that constitutes essential reading for any fan of O. Henry, or those of you with a big love for the Big Apple who want to see just exactly how this wondrous city came to captivate the world.

William Sidney Porter (1862-1919), known simply as O. Henry, following his stint in prison, was a prolific American short story writer. His fame came exceptionally quickly and he became a bestselling author of short story collections, the most famous being "Cabbages and Kings", "The Voice of the City", and "Strictly Business." As a result of the outstanding literature legacy that O. Henry left behind, there is an annual award named after him, given to the authors of an exceptional short stories.
---