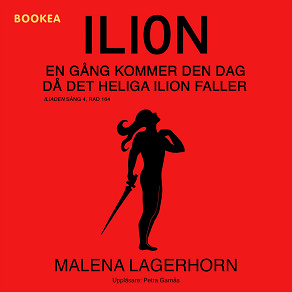 Isbn:
978-91-8978-260-0
Publisher:
Bookea
Category:
Novels
Accessible since:
March 2023
Narrator:
Petra Garnås
Length: 8 hours 50 minutes
---
Ilion
Nordisk bronsålder - en mytomspunnen era för 3600 år sedan. En tid då svarta skepp seglade över Östersjön, då eliten byggde sin makt på handel och plundring. En tid då blod och ära, list och förslagenhet avgjorde vem som var den mest fruktade hövdingen kring Östersjöns alla kuster och öar.

Melas har tagits om hand av släktingar sedan hans familj dödats i ett trojanskt överfall. Han växer upp med sin kusin Toas som blir hans allierade i drömmen om hämnd. Tillsammans svär de en ed att de en dag som vuxna krigare ska krossa Troja - Ilion - och bränna staden till grunden.

När Agamemnon, danaernas mäktigaste hövding, kallar krigare över hela Östersjön till ett gemensamt anfall mot Ilion ser de sin chans.

The day has come when my theory has come to life in a fiction novel in the country of the proud Achaeans! Felice Vinci, författare till Skandinaviskt ursprung för Homeros dikter Malena Lagerhorn utmanar synen på vår forntid genom att placera Homeros klassiska verk Iliaden i nordisk bronsålder, enligt en nygammal teori som förenar antikens tänkare såsom Plutarchos med moderna forskare.
Listen to sample
---