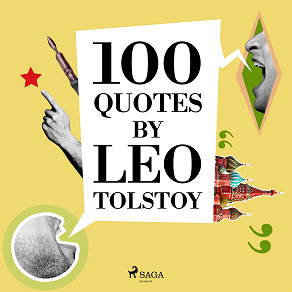 100 Quotes by Leo Tolstoy
'100 Quotes by Leo Tolstoy' is a collection of thoughts, reflections, and musings from the mind of one of Russia's greatest writers. Covering a wide range of subjects, such as society, war, love, and life, these quotes vary between the pithy and the witty to the thoughtful and maudlin. An ideal book for those who want to dip in and out of the mind of one of the world's most famous literary figures.



A colossus of Russian literature, Leo Tolstoy (1828 – 1910) was born into aristocracy. However, after losing both his parents by the age of four and his grandmother and aunt a year later, Tolstoy and his siblings were sent to Kazan to live with another aunt, where he was home-schooled.

After leaving university without a degree, Tolstoy lived a dissolute life of drinking, gambling, and womanising. Despite this, he maintained a love for literature and his first outing, 'Childhood,' was published in 'The Contemporary' magazine.

The works that have defined his career are 'War and Peace,' and 'Anna Karenina,' both of which have been hailed as the zenith of realist literature. He was nominated three times for the Nobel Prize for Literature but never won. Many of his works have been adapted for the silver screen, including 'Anna Karenina,' starring Helen McCrory.

Listen to sample
---