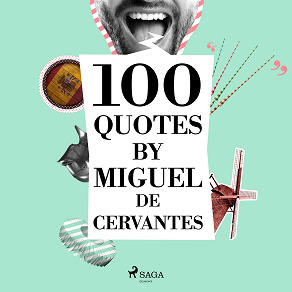 100 Quotes by Miguel de Cervantes
'100 Quotes by Miguel de Cervantes' is a collection of thoughts and reflections from Spain's greatest writer. Musing on a broad variety of topics, such as love, literature, and longing, readers will be surprised as to how many commonplace sayings the author and dramatist is responsible for. A superb and thought-provoking book for Cervantes fans and those who want something to dip in and out of.



Miguel de Cervantes (1547 – 1616) is widely considered to be one of the most important figures in Spanish literature. Despite being born into poverty, he developed a voracious appetite for reading and flourished at a school in Madrid, where he wrote his first poem.

After leaving Spain, Cervantes enlisted in the army and was promoted to the rank of captain, after his brave conduct in a battle against the Turkish, at the Gulf of Lepanto. However, after setting sail for his homeland, Cervantes was captured by pirates and sold into slavery. He was freed after his family paid a substantial ransom.

Cervantes' writing career took off in the early 17th Century. His most famous work, 'Don Quixote' has spawned a number of adaptations for film, TV, and stage. Perhaps the most notable is 'The Man of La Mancha,' starring Sofia Loren.

Listen to sample
---