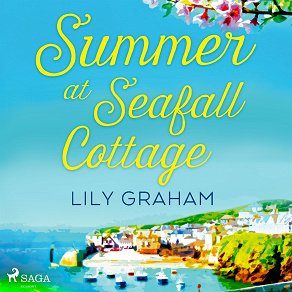 Isbn:
978-87-2827-779-9
Publisher:
Saga Egmont
Category:
Novels
Crime & Mystery
Romance
Accessible since:
June 2022
Narrator:
Kristin Atherton
Length: 9 hours 10 minutes
---
Summer at Seafall Cottage
'Hands down one of the best books I've read in a long time. This story hooks you immediately, one cannot put it down. I even dreamed about the book!' Goodreads Reviewer 5*

Victoria Langley needs to find a refuge when her husband leaves her. She finds it, in the shape of Seafall Cottage on a Cornwall clifftop.

The unkempt cottage in the village of Tregollan is a perfect place to recharge - particularly when she finds a fascinating diary from 1905.

Victoria determines to solve the secrets the diary contains, but locals blank her when she asks about its author, Tilly Asprey.

In walks a handsome lawyer with a missing piece of the puzzle. Now Victoria knows that Tilly's story is just like hers.

Can Victoria learn from TIlly's mistakes or is she destined to suffer the same fate?

An evocative and romantic read about lost love and new beginnings, this is perfect for fans of Phillipa Ashley, Emma Burstall and Liz Fenwick.

Previously published as The Cornish Escape

What everyone's saying about 'Summer at Seafall Cottage':

'My anguished howl of "nooooo" as I finished was so loud I had to go and check I hadn't woken my three-year-old ... I wanted the book to carry on and on and on ... I was caught from the very first, beautifully written, paragraph.' After the Rain

'I read it in one sitting and so will you.' Goodreads Reviewer 5*

'Oh, this was such an enjoyable book! ... To sum up, The Cornish Escape is one enjoyable, feel-good book I totally recommend. You'll simply be flying through it, devouring it in one sitting.' This Chick Reads



Over 21,000 copies sold. Amazon US and UK Top 20 bestselling author.

Lily has been telling stories since she was a child, starting with her imaginary rabbit, Stephanus, and their adventures in the enchanted peach tree in her garden, which she envisioned as a magical portal to Enid Blyton's Faraway Tree. She's never really got out of the habit of making things up, and still thinks of Stephanus rather fondly. She lives with her husband and her English bulldog, Fudge, and brings her love for the sea and country-living to her fiction.
Listen to sample
---