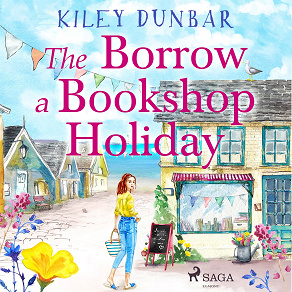 The Borrow a Bookshop Holiday
'A romantic book-filled treat' Heidi Swain, author of The Secret Seaside Escape

'The Borrow-a-Bookshop Bookshop Cafe invites literature lovers to run their very own bookshop for a fortnight.
Spend your days talking books with customers in your own charming bookshop and serving up delicious cream teas in the cosy cafe.
Bookworms, what are you waiting for? Your holiday is going to be LIT(erary).
Apply to: The Borrow-a-Bookshop Bookshop Cafe, Down-a-long, Clove Lore, Devon.'

Jude Crawley should be on top of the world. She's just graduated as a mature student, so can finally go public about her relationship with Philosophy professor, Mack.

Until she sees Mack kissing another girl, and her dreams crumble. And worse, their dream holiday running a tiny bookshop in the harbour village of Clove Lore for two weeks is non-refundable.

Throwing caution to the winds, Jude heads down to Devon, eager to immerse herself in literature and heal her broken heart.

But there's one problem: a mix-up means that six-foot-tall, brooding (but gorgeous) Elliot has also reserved the bookshop holiday for two weeks. Jude and Elliot are forced to put their differences aside to run the bookshop and it seems that Jude might be falling in love with more than just words. Until she discovers what Elliot is running from and why he's hiding out in Clove Lore...

Can Jude find her own happy ending in a tiny, tumbledown bookshop? Or is she about to find out that her bookish holiday might have an unexpected twist in the tale?

The perfect cosy, romantic read for any bookworm! Fans of Jenny Colgan, Cressida McLaughlin and Philippa Ashley will love this feel-good rom-com.

Readers are loving their stay at The Borrow-A-Bookshop!

'Every bookworm should read this book. It's just delightful and my heart feels so happy!'

'Pure escapism! I highly recommend this book to totally get lost in.'

'Emotional, fun, charming and delightful! I absolutely loved this book'

'The perfect summer read that leaves you wanting to feel the sand beneath your toes.'

Kiley Dunbar is a writer of romantic fiction and teaches creative writing and English literature at a university in the North of England. She's a proud member of the Romantic Novelists' Association and a graduate of their New Writers' Scheme.

She met her very own leading man, working as a Shakespeare tour guide in Stratford-Upon-Avon, much like her heroine in 'One Summer's Night'. They got engaged four days after they met, telling you that one, she's not exactly risk-averse and two, she's a true romantic.

She loves writing light-hearted romantic books with dreamy locations, female friendships, the occasional literary reference and love stories with Christmassy sparkle or summer sunshine, and always, a Happy Ever After.
Listen to sample
---