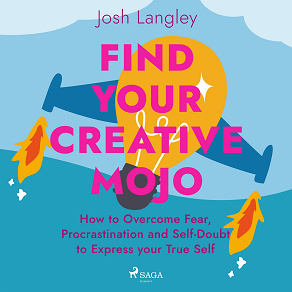 Isbn:
978-87-2827-682-2
Publisher:
Saga Egmont
Category:
Psychology
Economics & Business
Accessible since:
June 2022
Narrator:
Alan Irving
Length: 2 hours 10 minutes
---
Find Your Creative Mojo: How to Overcome Fear, Procrastination and Self-Doubt to Express your True Self
Delivering the untold truth about why it's so important to express yourself, 'Find Your Creative Mojo' provides the perfect manifesto on finding your voice, your passions and unleashing your creative soul. Whether you're taking your first step or looking to awaken your arty side, you'll be reaching for this book whenever you find your creative voice in need of a boost.

A rattling read, Josh Langley mixes humour, inspirational quotes, beautiful illustrations and quirky anecdotes to craft one cocktail of creative love letter to art. Ideal for any budding creative soul.



Author, cartoonist and daydreamer, Australian Josh Langley is an award-winning radio broadcaster and advertiser with over 20 years' experience. Having started his own creative agency in 2000, he turned to painting as a form of self-expression at the same time, resulting in an exhibition at the 2002 Perth Fringe Festival. in 2010, he began drawing cartoons for Big Sky Publishing and has since published 2 ground-breaking self-help books, 'Dying to Know: is there life after death', and 'Turning Inside Out: what if everything we've been taught about life is wrong.' He is also the author of numerous self-help children's titles, including 2018's ABIA Small Publisher's Children's Book of the Year award winner 'It's Ok to Feel the Way You Do'. He lives in South West Australia with his partner and chickens.
Listen to sample
---