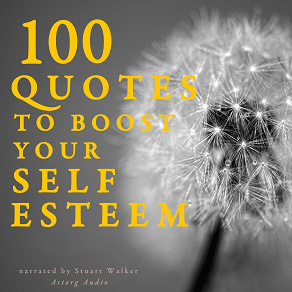 Isbn:
978-28-2110-626-0
Publisher:
Saga Egmont
Category:
Economics & Business
Accessible since:
June 2022
Narrator:
Stuart Walker
Length: 40 minutes
---
100 Quotes to Boost your Self-Esteem
We have selected for you 100 great quotes to boost your self esteem. We use the expression self-esteem to talk about the beliefs you have about yourself – what you think about the type of person you are, your abilities, the positive and negative things about you and what you expect for your future. If you have healthy self-esteem, your beliefs about yourself will generally be positive. You may experience difficult times in your life, but you will generally be able to deal with these without them having too much of a long-term negative impact on you. Our audiobook will help you to boost quickly your self esteem by listening and thinking about those very appropriate quotes. Take some time to analyze and think about what those great minds will tell you about self esteem. If you have low self-esteem, your beliefs about yourself will often be negative. You will tend to focus on your weaknesses or mistakes that you have made, and may find it hard to recognise the positive parts of your personality. You may also blame yourself for any difficulties or failures that you have.A great quote is very similar to a great thinking and a small poem. It can encapsulate a large web of ideas, thoughts, reflections, emotions in a few words. The reader of a great quote is forced to think about what he just heard. He has to think about those words and what they mean. An excellent quote requires the reader to pause to contemplate the real meaning and poesy of a few words. A great thought reaches a level of universality. Quotes hit hard into the essence of being human. The right quote can help us to see some invisible meanings of things or subjects. The range of authors of those 100 quotes to boost your self esteem is very large: from Marilyn Monroe to Mark Twain, from Henry Ford to Simone de Beauvoir, Charlotte Brontë, Mahatma Gandhi, from Paulo Coelho to Charles Darwin, Albert Einstein and many more. Take advantage of the knowledge and the intelligence of all those men and women !


Listen to sample
---