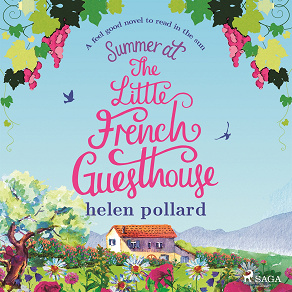 Summer at the Little French Guesthouse
Summer sun, chilled, white wine, and a gorgeous fiancé. Nothing could upset pure bliss ... Right?

Emmy Jamieson loves her new life in the gentle hills and sunflowers of the lush French countryside, managing La Cour des Roses, a beautiful, white stone guesthouse. With marriage to caramel-eyed Alain just round the corner, things couldn't be more perfect.

The odd glass (gallon) of wine dulls the sound of Emmy's mum in full motherzilla-of-the-bride mode, and the faint tinkling of alarm bells coming from Alain's ex are definitely nothing to worry about. Guesthouse owner Rupert and a whole host of old and new friends are there to make sure nothing gets in the way of Emmy's happiness.

But as Emmy gets close to the big day, a secret from the past throws everything decidedly off track. Will her idyllic French wedding go ahead as planned, or will Emmy run back home to England with a broken heart?

This summer, escape to the rolling vineyards of France for an utterly uplifting read. Fans of Jenny Colgan, Debbie Johnson and Nick Alexander will want to join Emmy for a pain au chocolat in the sun-drenched garden at La Cour des Roses.

What everyone's saying about Summer at the Little French Guesthouse:

'I'm utterly bereft that this fantastic book has come to an end ... I have been hooked on from the start ... grips my heart and won't let go ... I could potentially wax lyrical for far longer about various aspects of the book, but really I may start spoiling it for you ... a wonderful way to escape your own life, while devouring a great story that should have you grinning!' Rachel's Random Reads 5 stars

'Love this book! ... I barely got the first one done and I grabbed the next two to continue ... Fun characters, fun story, and makes me want to pack a bag and head to the Loire Valley in France.' Goodreads Reviewer

'It's like meeting old friends ... the series is a perfect summer read. It's about family, friendship and helping them ... a twist I didn't see coming ... It caught me by surprise.' Flying Thoughts

Summer at the Little French Guesthouse has been published in 5 languages and the series has sold over 230,000 copies in the English language.

As a child, Helen had a vivid imagination fuelled by her love of reading (long past her bedtime!) so she started to create her own stories in a notebook. She still prefers fictional worlds to real life and loves infusing her writing with humour and heart. Helen lives in Yorkshire with her husband, two grown-up (in theory) kids and a Jekyll and Hyde cat. She enjoys reading, coffee with friends and indulging her nostalgia by watching old seventies and eighties TV shows.
Listen to sample
---