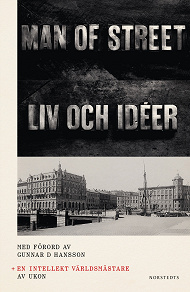 Isbn:
978-91-1311-634-1
Publisher:
Norstedts
Category:
Memoirs & Biography
Accessible since:
January 2022
---
En intellekt världsmästare : Liv och idéer av Man of street med ett förord av Gunnar D Hansson
Poeten och litteraturvetaren Gunnar D Hansson hittade för några år sedan en lika märklig som litterär självbiografi, Liv och idéer, skriven mellan 1929 och 1937 av den gåtfulla signaturen The Man of Street och tryckt i några få exemplar.

Vem var den anonyma författaren? Han tycks ha drivit ett tryckeri vid Lilla Torget i Göteborg och i sin bok presenterar han både visionära och häpnadsväckande framsynta politiska idéer - exempelvis förutser han kommande välfärdsreformer, EU, Krügerkraschen och övergivandet av guldmyntfoten. Med tiden utvecklar Man of Street alltmer paranoida föreställningar. Han kallar sig "intellekt världsmästare" och upplever hur hans idéer stjäls av regeringar världen över och anser sig förföljd av såväl bolsjevikerna som tidningsmannen Torgny Segerstedts hemliga agenter.

Boken kan läsas från två håll. Från det ena möter vi Man of Streets egen Liv och idéer, med ett detektiviskt förord av Gunnar D Hansson. Och från det andra en djuplodande essä, En intellekt världsmästare, av psykoanalytikern och poeten Ulf Karl Olov Nilsson, som utforskar det själsliga lidande vi kallar paranoia och placerar fallet Man of Street mitt i vår egen konspiratoriska samtid.
---