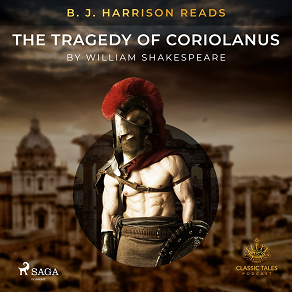 B. J. Harrison Reads The Tragedy of Coriolanus
"The Tragedy of Coriolanus" falls into the category of Shakespeares' political tragedies. It tells of the story of the legendary Roman hero Caius Marcius Coriolanus. Coriolanus' military success helps him get forward in Rome's political life, and he soon starts dreaming of a leadership position. Unfortunately, too much power inevitably leads to corruption, and Coriolanus' fate is no exception.
A detailed exploration of power struggles, political issues, and what it means to be a man, "The Tragedy of Coriolanus" is on the one hand a harsh critique of power and greed, and on the other hand, it is the rise-and-fall tale of an intriguing and virtuous character.

William Shakespeare (1564-1616) was an English playwright and poet, often regarded as the greatest dramatist and writer in the English language. He wrote more than 150 sonnets, and 39 plays, which have been translated into many languages. Among his most popular plays are the comedies "The Comedy of Errors" and "A Midsummer Night's Dream", the histories "Richard III" and "Henry V", as well as the tragedies "Hamlet" and "King Lear".

B. J. Harrison started his Classic Tales Podcast back in 2007, wanting to breathe new life into classic stories. He masterfully plays with a wide array of voices and accents and has since then produced over 500 audiobooks. Now in collaboration with SAGA Egmont, his engaging narration of these famous classics is available to readers everywhere.
Listen to sample
---