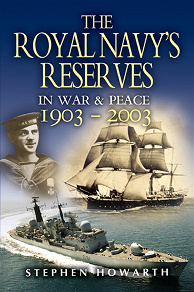 Royal Navy's Reserves in War and Peace 1903-2003
The official volume marking the centenary of the Royal Naval Volunteer Reserve, known as the 'Wavy Navy' because of the distinctive wavy gold stripes on the reservists' uniforms, from its formation in 1903 through its unification with the mercantile Royal Reserve in 1958, and on to its present complete integration with the Royal Navy as 'the part-time element of a single naval service'.

It charts the difficulties, setbacks and delights of the reservists' peacetime years of service and chronicles their vital contributions during wartime.

Since the end of the Cold War and the dramatic near-dissolution of the RNR in 1994, members of the modernized part-time volunteer service have served in many different RN operations at sea, on land and in the air, from the Balkans to the Gulf.

This detailed and vivid history which and profusely illustrated is by a distinguished writer of naval history who served in the modern RNR both as a rating and an officer for over eleven years.
---