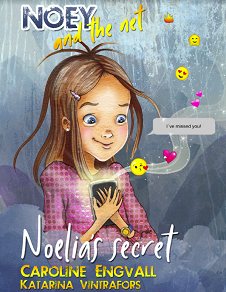 Noey and the net 1 - Noelia´s secret
Noey is nine years old and thinks a lot about life. She feels a little different. But then she meets Wilma online. Wilma is all she needs in a friend. She is kind, funny and understands everything - unlike mom. All Nollan wants is for Wilma to like her. So when Wilma asks if Nollan can send some pictures on her own she agrees to it. Noelia's Secret is the first book in a series about Noey. The books should make it easier for adults and children to start conversations about life online.
Caroline Engvall is a Swedish author, journalist and lecturer who has written several top-selling books about children in the Swedish sex trade.
She runs several projects which aim to help children who are subjected to criminality online, including educational materials, the Safe Selfie Academy, several help sites, podcasts and she has also participated in TV documentaries.
She is the winner of the 2018 Elise Lindqvist Award and the Brave Mother of the Year Award, she has spoken to the Swedish parliament and government on the matter and she has been engaged by the Swedish Royal Family (Queen Silvia and Princess Sofia) to speak on the subject both in a private capacity and for the Childhood Foundation.
Listen to sample
---