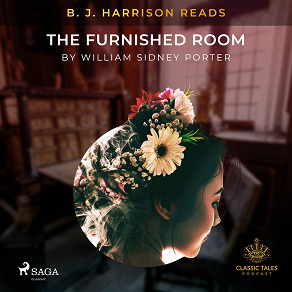 Isbn:
978-87-2657-498-2
Publisher:
Saga Egmont
Category:
Novels
Historic facsimile
Romance
Accessible since:
November 2020
Narrator:
B. J. Harrison
Length: 21 minutes
---
B. J. Harrison Reads The Furnished Room
"The Furnished Room" is a short story about love and dedication, about exhaustion and despair. A young man is searching for a girl he fell in love with. He rents a room near the theatre where she could sometimes be seen and he devotes his days to the dream of finding her. When all of a sudden the sweet fragrance of her perfume fills his room... Has he finally found her? Or is this an evil ghost from the past? Will he get to embrace the girl he loves or she will drag him to the verge of madness?

William Sidney Porter (1862-1919), known simply as O. Henry, was a prolific American author of humorous literary pieces. His fame came exceptionally quickly and he became a bestselling short story author. Among his most famous stories are the "Cabbages and Kings", "The Voice of the City", and "Strictly Business." As a result of the outstanding literature legacy O. Henry left behind, there is an annual American award named after him, which is granted to exceptional short stories.

B. J. Harrison started his Classic Tales Podcast back in 2007, wanting to breathe new life into classic stories. He masterfully plays with a wide array of voices and accents and has since then produced over 500 audiobooks. Now in collaboration with SAGA Egmont, his engaging narration of these famous classics is available to readers everywhere.
Listen to sample
---