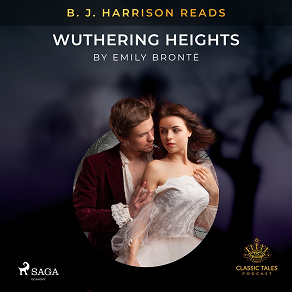 B. J. Harrison Reads Wuthering Heights
"He's more myself than I am. Whatever our souls are made of, his and mine are the same."

In the winter of 1801, a man named Lockwood rents a home in Northern England. When he meets his unfriendly landlord, Heathcliff, who lives in the old nearby manor Wurthering Heights, Lockwood is curious to know why he seems so troubled. By asking his housekeeper, Lockwood finds out much more than he bargained for.

One of the most controversial and debated love stories of all times, 'Wuthering Heights' is one of those classics you just have to read. The emotional magnitude of this novel is great and far-reaching, and the writing is both provoking and seductive. 'Wuthering Heights' has been adapted for the screen several times, the complicated role of Heathcliff having been taken on by Timothy Dalton and Ralph Fiennes to name a few. To this is day, the most well-known adaptation of Emily Brontë's only novel, however, is the song by Kate Bush.

Emily Brontë (1818-1848) was an British poet and novelist. She was the second oldest of the three famous Brontë sisters, and in her short life she wrote only one novel, the classic 'Wuthering Heights' (1847).

B. J. Harrison started his Classic Tales Podcast back in 2007, wanting to breathe new life into classic stories. He masterfully plays with a wide array of voices and accents and has since then produced over 500 audiobooks. Now in collaboration with SAGA Egmont, his engaging narration of these famous classics is available to readers everywhere.
Listen to sample
---