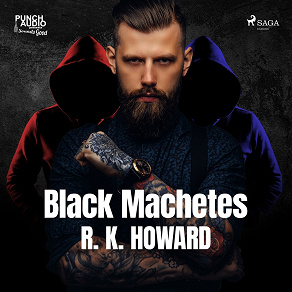 Isbn:
978-87-2657-634-4
Publisher:
Saga Egmont
Category:
Novels
Crime & Mystery
Accessible since:
September 2020
Narrator:
Peter Berkrot
Length: 10 hours 28 minutes
---
Black Machetes
Benjamin Wilder grew up with sparse shelter, infested provisions, and constant abuse dealt to him by his stepfather: Jessup — a.k.a. the Rabid Dog. Without a sober mother to defend him from the Rabid Dog's wrath, Ben finds reprieve and adventure in a club of misfit boys called the Black Machetes. But the world as Ben knows it comes to an end when he witnesses an act so psychologically appalling that it forces him to run for his life.  'Black Machetes' is a powerful page-turning thriller that all readers agree is both shocking and endearing, written in gritty-cinematic tones that paint a painfully intimate portrait of life framed by abuse, tragedy, and inhibited love. Disclaimer: the author cannot be held responsible for any sleep deprivation caused by the reader's inability to stop turning pages into the wee hours of the night.

R. K. Howard is an American author. His "Black Machetes" has been in Amazon Top 100 psychological thriller several times. He is also the author of "Error Code," "The Aparting," and "The Express." He was also short-listed for the Eric Hoffer Award in 2015.
Listen to sample
---