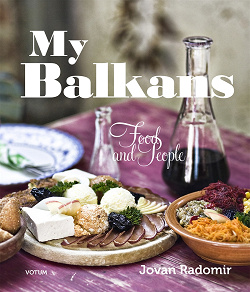 My Balkans - Food and people
Discover the Balkans! 
A much anticipated English E-book release containing some of Jovan Radomir´s favourite recipes and stories from the Balkan region.

Our, as well as Jovan´s mission is to make it simple and tasteful so you can make your favourite Balkan dishes using the traditional ingredients where ever you are in the world.

Learn the secret family recipes for ajvar and stuffed peppers and get classical recipes for grilled meat, pasteries, bread and top it all off with the fancy gourmet dinner that Jovan made for a gala banquet at the venerable Grand Hôtel in Stockholm. You will also discover the pulsating capital of Serbia: Belgrade, the beauty of the majestic river Danube, the long tradition of winemaking, the widespread Kafana culture, the mentality of the Balkan people ? all the things that make the Balkans such an enticing mix of food, culture and people. Prijatno! Bon appétit!
---