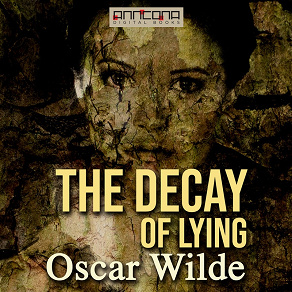 The Decay of Lying
The Decay of Lying – An Observation is an essay by Oscar Wilde included in his collection of essays titled Intentions, published in 1891. 
Wilde presents the essay in a Socratic dialogue between with Vivian and Cyril, two characters named after his own sons. Their conversation, though playful and whimsical, promotes Wilde's view of Romanticism over Realism. 
Vivian tells Cyril of an article he has been writing called "The Decay of Lying: A Protest". According to Vivian, the decay of Lying "as an art, a science, and a social pleasure" is responsible for the decline of modern literature, which is excessively concerned with the representation of facts and social reality. He writes, "if something cannot be done to check, or at least to modify, our monstrous worship of facts, Art will become sterile and beauty will pass away from the land."
Vivian briefly summarizes the doctrines of the "new aesthetics" in the following terms:
-       Art never expresses anything but itself.
-       All bad art comes from returning to Life and Nature, and elevating them into ideals.
-       Life imitates Art far more than Art imitates Life. 
-       Lying, the telling of beautiful untrue things, is the proper aim of Art.
Audiobook read by Martin Geeson, running time 1 hour, 42 min. Unabridged full version. Also available as E-Book, ePUB, length 12,700 words, average reading time 1 hour, 5 min.  
Listen to sample
---