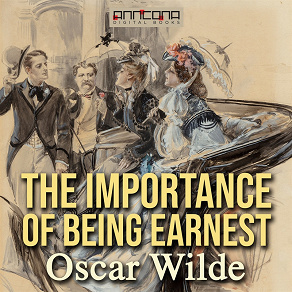 Isbn:
978-91-7759-706-3
Publisher:
Anncona Media
Category:
Plays
In english
Accessible since:
April 2020
Narrator:
Phil Chenevert
Length: 2 hours 37 minutes
---
The Importance of Being Earnest
The Importance of Being Earnest, A Trivial Comedy for Serious People is a classic comedy of manners in which two flippant young men, in order to impress their respected beloveds, pretend that their names are "Ernest," which both young ladies believe confers magical qualities on the possessor. It is regarded by many critics and scholars as being the wittiest play in the English language.
Little needs to be said about the play itself, a sparkling example of Wilde's amazing ability to poke fun at almost everyone while making you laugh out loud at the witty sayings sprinkled throughout the acts.  
The Importance of Being Earnest was first performed in London in 1895. Audiobook (solo recording of the play, meaning that all parts including stage directions are performed by one person), read by Phil Chenevert, running time 2 hours, 37 min. Unabridged full version. Also available as E-Book, ePUB, length 20,700 words, average reading time 1 hour, 45 min. 
Listen to sample
---