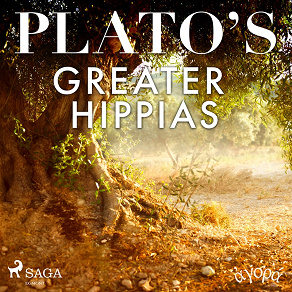 Isbn:
978-87-2642-557-4
Publisher:
Saga Egmont
Category:
Philosophy
Accessible since:
March 2020
Narrator:
William Sigalis
Ray Childs
Length: 1 hour 9 minutes
---
Plato's Greater Hippias
Hippias of Elis travels throughout the Greek world practicing and teaching the art of making beautiful speeches. On a rare visit to Athens, he meets Socrates who questions him about the nature of his art. Socrates is especially curious about how Hippias would define beauty. They agree that "beauty makes all beautiful things beautiful," but when Socrates presses him to say precisely what he means, Hippias is unable to deliver such a definition. The more Socrates probes, the more absurd the responses from Hippias become. This is one of Plato's best comedies and one of his finest efforts at posing the philosophical problem of the difference between particular things and universal qualities.

Plato lived in Athens, Greece. He wrote approximately two-dozen dialogues that explore core topics that are essential to all human beings. Although the historical Socrates was a strong influence on Plato, the character by that name that appears in many of his dialogues is a product of Plato's fertile imagination. All of Plato's dialogues are written in a poetic form that his student Aristotle called "Socratic dialogue." In the twentieth century, the British philosopher and logician Alfred North Whitehead characterized the entire European philosophical tradition as "a series of footnotes to Plato." Philosophy for Plato was not a set of doctrines but a goal — not the possession of wisdom but the love of wisdom. Agora Publications offers these performances based on the assumption that Plato wrote these works to be performed by actors in order to stimulate additional dialogue among those who listen to them.
Listen to sample
---