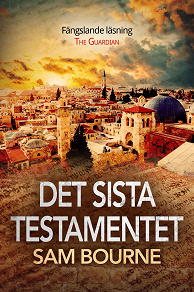 Isbn:
978-87-4280-166-6
Publisher:
Jentas
Category:
Crime & Mystery
Accessible since:
March 2020
---
Det sista testamentet
En hemlighet begravd i årtusenden En medryckande, skrämmande thriller om en religiös världskonspiration du inte trodde var möjlig, men som för varje steg blir alltmer omöjlig att avfärda.

I april 2003 plundras Iraks nationella museum i Bagdad. En irakisk tonårspojke hittar en uråldrig lertavla i ett av de hemliga valven, och flyr ut i natten med sitt fynd. Flera år senare, vid ett fredsmöte i Jerusalem, kliver plötsligt en man fram mot den israeliske premiärministern, sträcker sig efter något innanför kavajen - och skjuts omedelbart ner av säkerhetsvakter. Men i handen har mannen bara en lapp, ett meddelande till premiärministern. De olyckliga skotten sätter igång en serie mord som hotar att stjälpa fredsprocessen, och Maggie Costello, erfaren fredsförhandlare, skickas till Mellanöstern. Spåret leder henne genom judiska bosättningar och palestinska flyktingläger, mot en av Bibelns sista olösta gåtor.

Intrigen och konspirationen i boken är bra och intressant.
Torbjörns Bokblogg

Fängslande läsning.
The Guardian

En given succé ... en bok att sträckläsa ... De rättfärdiga har en bästsäljares alla ingredienser.
Daily Express

Sam Bourne är en pseudonym för den prisade brittiske journalisten Jonathan Freedland. Han skriver regelbundet i Guardian, London Evening Standard och The Jewish Chronicle och arbetar även på BBC Radio 4. De rättfärdiga är en intensiv thriller fylld av action, gåtor och spänning. Sam Bourne tar läsaren djupt in i religionens dolda värld, med mysticism och bibliska profetior. I England toppar boken listorna sedan månader tillbaka och har hittills sålt i mer än 200 000 exemplar.
---