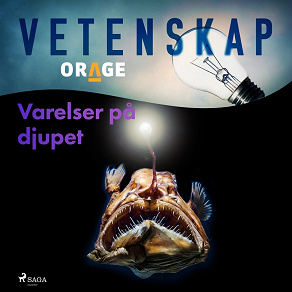 Isbn:
978-87-2627-399-1
Publisher:
Saga Egmont
Category:
Science
Accessible since:
November 2019
Narrator:
Kim Rhedin Hüttner
Length: 17 minutes
---
Varelser på djupet
Det brukar sägas att människan vet mer om rymden än om haven. Inte för att förolämpa Stephen Hawking och hans vänner, men eftersom vi inte vet rymdens exakta storlek går påståendet inte att bevisa. Det baseras främst på att vi skickat 12 människor till månen sedan 1969, jämfört med bara 3 till havets djupaste punkt, Marianergraven. Enligt NOAA (National Oceanic and Atmospheric Administration in the US), täcker haven 71 procent av jordklotets yta och innehåller 97 procent av jordklotets vatten. Trots dett är mer än 95 procent av undervattensvärlden fortfarande outforskad.
Ett par hundra meter ned under vattnets yta finns inget ljus, och 1 000 meter ned är allt en mörk avgrund. Det är här, i mörkrets rike, som några av världens underligaste varelser lever. Följ med och utforska livet under havet och några av de mest spektakulera varelserna som existerar!

Ursprungligen publicerad av Orage.

VETENSKAP är en serie om olika fenomen som med hjälp av vetenskapen går att förklara, utforska och få en bättre förståelse av. I kortare artiklar och reportage följer vi med i vetenskapens alla vrår för att förklarat såväl vardagliga som extraordinära fenomen.
Listen to sample
---