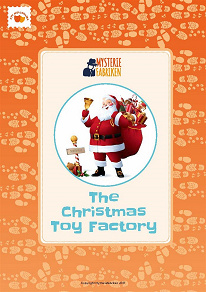 The Christmas Toy Factory: ett minidrama från Mysteriefabriken
The Christmas Toy Factory - läromedel och rolig aktivitet för barn och vuxna från Mysteriefabriken
The Christmas Toy Factory är dels avsedd som
läromedel i engelska
men fungerar också som en 
rolig aktivitet 
för både 
skola 
och 
fritid.
The Christmas Toy Factory passar utmärkt på 
julfest, julgransplundring, barnkalas 
eller som 
jullek 
i engelskspråkiga grupper  och i vilket sammanhang som helst under 
jul
. För engelskspråkiga arbetsgrupper med barnasinnet kvar passar även denna 
roliga lek 
på 
personalfest 
och 
företagsfest.
Ett minidrama är enkelt att genomföra och roligt att spela. En person är berättare. Denne läser texten som för handlingen framåt. Aktörerna gör som berättaren säger, under tystnad eller med hjälp av improviserade repliker. Detta minidrama är skrivet för 
barn 
från 9 år och går utmärkt att spela barn och vuxna tillsammans.
Tidsåtgång ca 30-90 minuter.
I Tomtefabriken är det full aktivitet runt jul. Hela tomtefamiljen får gå upp tidigt och ge sig iväg med rensläden tidigt på morgonen. I fabriken väntar alla leksaker - gunghästen, den uppskruvbara leksaksmusen, dockan och leksakståget - på att bli testade av Tomtefamiljen. Katten är förstås med och väntar tålmodigt på en skrovmål i form av husmusen. Men vad händer när katten förväxlar husmusen med den uppskruvbara leksaksmusen? Ska tomtenissarna hinna med att få in alla leksaker i säcken innan julafton? Som de flesta sagor slutar även detta drama lyckligt.
Roller (alla roller är inte med i alla akter):
1 berättare
1 tomtefar
1 tomtemor
2-3 tomtenissar
1 husmus
1 katt
1-2 renar
1 släde (1-4 personer)
1 docka
1 uppskruvbar leksaksmus
1 gunghäst
1 rullband (1-4 personer)

At the The Christmas toy factory there is full activity around Christmas time. The entire Claus family gets up at the crack of dawn and sets off in the reindeer sledge early in the morning. In the factory, all toys - the rocking horse, the wind-up toy mouse, the doll and the toy train - are waiting to be tested by the Claus family. The cat is waiting patiently for a meal (the house mouse). But what happens when the cat misstakes the house mouse with the wind up toy mouse? Will Mr Claus be able to get all the toys into the bag before Christmas Eve? Like most stories, this fairytale drama also results in a happy ending. 

Roles:

1 narrator
1 Mr. Claus
1 Mrs. Claus
2-3 elves
1 house mouse
1 cat
1-2 reindeer
1 sledge (1-4 people)
1 doll
1 wind-up toy mouse
1 rocking horse
1 conveyor belt (1-4 people)
1 toy train (1-4 people) 
---