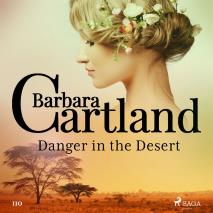 Isbn:
978-87-2636-148-3
Publisher:
Saga Egmont
Category:
Romance
Accessible since:
October 2019
Narrator:
Anthony Wren
Length: 4 hours 26 minutes
---
Danger in the Desert (Barbara Cartland's Pink Collection 110)
The Earl of Hillingwood calls his great friend, Lord Waverstone, to an urgent meeting with him at White's Club in St. James's for a serious discussion. The Earl is determined that his only son, Royden, is married to his friend's daughter, Malva, as he feels that it is time Royden produced an heir to Hillingwood Towers and all its fabulous treasures and carry on as well his ancient and illustrious lineage. The beautiful fair-haired Malva and Royden do not wish to marry and anyway they are definitely not in love with each other. They are both seeking an ideal love that will sweep them off their feet and they will be gloriously happy for ever. To circumvent their fathers' ambitions for them they devise an ingenious plan to pretend to their fathers that they are indeed married, but they want it kept secret until they return from their honeymoon because Queen Victoria would not approve of anyone marrying while they are still in mourning as Malva is for her mother. When they do return from their honeymoon, they will then say that they have found that they are totally unsuited to each other and will divorce immediately. Because both fathers would be horrified at the Social shame and scandal of the mere idea of a divorce, they will be delighted and relieved to be informed that no wedding has actually taken place. And then they will take the pressure off them and leave them alone. Malva and Royden set off for their pretend honeymoon in his new yacht for West Africa telling the Captain that they are brother and sister. It is when they anchor in a quiet bay off the African coast and decide to visit the Palace of the local Vizier that their adventure really begins. How Malva, because of her beautiful golden hair is kidnapped by the Sultan for his harem and how she is daringly rescued by Royden. And how love comes to them both in a most unexpected way is all told in this exciting tale by BARBARA CARTLAND.
Barbara Cartland was the world's most prolific novelist who wrote an amazing 723 books in her lifetime, of which no less than 644 were romantic novels with worldwide sales of over 1 billion copies and her books were translated into 36 different languages. As well as romantic novels, she wrote historical biographies, 6 autobiographies, theatrical plays and books of advice on life, love, vitamins and cookery. She wrote her first book at the age of 21 and it was called Jigsaw. It became an immediate bestseller and sold 100,000 copies in hardback in England and all over Europe in translation. Between the ages of 77 and 97 she increased her output and wrote an incredible 400 romances as the demand for her romances was so strong all over the world. She wrote her last book at the age of 97 and it was entitled perhaps prophetically The Way to Heaven. Her books have always been immensely popular in the United States where in 1976 her current books were at numbers 1 & 2 in the B. Dalton bestsellers list, a feat never achieved before or since by any author. Barbara Cartland became a legend in her own lifetime and will be best remembered for her wonderful romantic novels so loved by her millions of readers throughout the world, who have always collected her books to read again and again, especially when they feel miserable or depressed. Her books will always be treasured for their moral message, her pure and innocent heroines, her handsome and dashing heroes, her blissful happy endings and above all for her belief that the power of love is more important than anything else in everyone's life.
Listen to sample
---