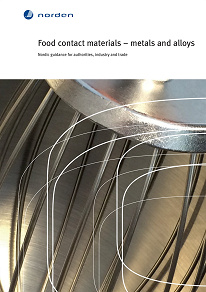 Food contact materials - metals and alloys
Metals and alloys are widely applied as food contact materials, e.g. as process equipment in the food industry and as household utensils. Therefore, they are a potential source of food contamination. Migration of substances from food contact materials to food must not occur in amounts that endanger human health. Relevant for food contact materials made from metals and alloys are the migration (release) of metals, both the main components and foreseen impurities.
In-house control based on a declaration of compliance, DoC, and supporting documentation at the producers and importers are important prerequisites to limit this contamination and to ensure compliance with the legislation. This is considered a general part of quality assurance, even though the European legislation does not specifically require a DoC for metals and alloys used as food contact materials. This Nordic guideline gives a short overview of toxicology, analytical feasibility, legislation and guideline values for release of metals from food contact materials. Therefore, the guideline will be a useful tool for industry and official food inspectors.
---